I get asked this question a lot. I do not know when you will use your stem cells, or what you will use them for. I will say that you shouldn't be using your stem cells today, and you shouldn't be using them tomorrow. However, with each passing year, you are growing older than the stem cells you banked with us. This is how they become more valuable to you. Also, with each passing year, the potential uses for stem cells continues to expand.
On April 3rd, FDA Commissioner Dr. Scott Gottlieb, and Director of the Center for Biologics Evaluation and Research Dr. Peter Marks, issued a promising statement.
To summarize the statement: The FDA sees great potential in stem cell therapies and has been inundated with new applications for the FDA approval process for these therapies.
The first few lines of the statement are worth reading in full:
The FDA is witnessing a surge of cell and gene therapy products entering early development, evidenced by a large upswing in the number of investigational new drug (IND) applications. Based on this activity, we anticipate that the number of product approvals for cell and gene therapies will grow in the coming years, reflecting significant scientific advancement and the clinical promise of these new innovations.
We anticipate that by 2020 we will be receiving more than 200 INDs per year, building upon our total of more than 800 active cell-based or directly administered gene therapy INDs currently on file with the FDA. And by 2025, we predict that the FDA will be approving 10 to 20 cell and gene therapy products a year based on an assessment of the current pipeline and the clinical success rates of these products.
This following graph shows the number of new clinical trails registered with clinicaltrials.gov each year that use mesenchymal stem cells (mesenchymal stem cells are the cells that Forever Labs banks).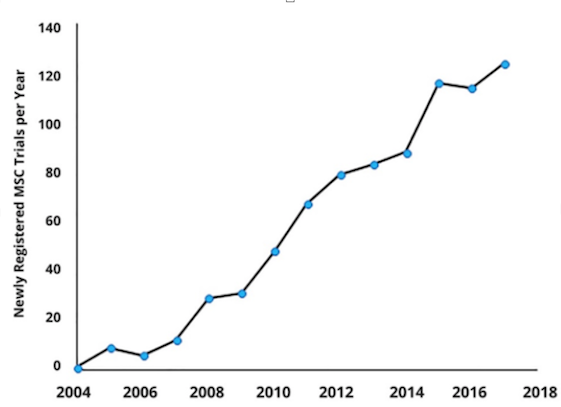 The clinical trial process is a slow one, and it can be frustrating to watch. However, the process is necessary to create the most safe and effective therapies. MSC therapies have not been FDA-approved for treatment in the US yet; but MSCs have been approved for treatment of graft-versus-host disease in Canada, for Crohn's disease in the European Union, and spinal cord injury and mild-to-moderate Alzheimer's disease in Japan. The clinical development of stem cell therapies continues to grow at a rapid pace. Currently, there are 16 FDA approved cell or gene therapy products. The FDA estimates that within 6 years, they will be approving between 10-20 new cell and gene therapy products each year. In 10 years, the number of FDA approved cell or gene therapy products will have grown from 16 to between 50 to 100. That is real progress.
You shouldn't expect to use the cells you banked in the next five years. However, the more time that passes, the more likely that the cells that you banked with Forever Labs will be useful to you. Their potential is growing.